Snacks are delicious snacks that have become trendy all over the world. Easily at work or any place where we lack time, we can heat it up very quickly and enjoy its taste. Join us at FoodexIran to introduce you to the new snack technology that when we want to heat it from frozen, its surface is crispy and you can feel its freshness. With this safe and tasty solution, snack manufacturers around the world can easily adapt their range to meet modern nutritional needs.
The Swiss company Crisp Sensation has developed a new snack production technology. The characteristic of this snack is that even though its surface is frozen in the freezer, when it is heated in the microwave or in a normal oven, it still has a crispy surface, and the middle part of the snack remains completely fresh after heating, and its original and crispy taste. Keeps for hours after preparation. The significant advantage of this technology is the reduction of 50% of fat in it.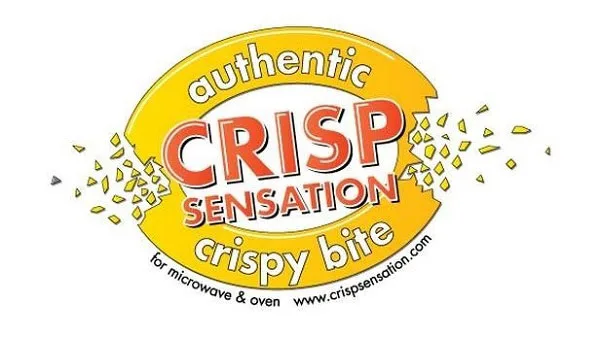 Crisp Sensation technology can be used for the most diverse foods; Products that are completely frozen, but should be served crispy and toasted after leaving the frozen state. This technology can be used to prepare schnitzel, chicken nuggets, cheese or vegetables, fish and some sweets.
The special coating of this product preserves water in its middle part and prevents the middle tissue from drying and hardening. The purpose of this technology is to experience the delicious taste and crisper texture of the products. It is interesting to know that compared to similar products that are prepared and heated in a microwave or oven as a standard, foods prepared with this technology preserve the sense of pleasure and freshness of food.
Also, due to the outstanding processing technology, products produced with Crisp Sensation have up to 50% less fat than similar products; Without any detrimental effect on taste or texture.
This feature can be labeled on the packaging. The characteristic of snacks is its "crispy and puffy". Crispy and delightful, but not hard or hard and without any crunch!
Crisp Sensation offers its globally patented technology to manufacturers of frozen coated snacks as well as to large-scale, systemic food suppliers. Customers can use this technology under license from the company. If desired, Crisp Sensation experts can advise on all matters related to production, marketing and product development. The technology is available for full-scale production. Crisp Sensation is headquartered in Geneva, Switzerland, while research and development takes place in the UK and the Netherlands.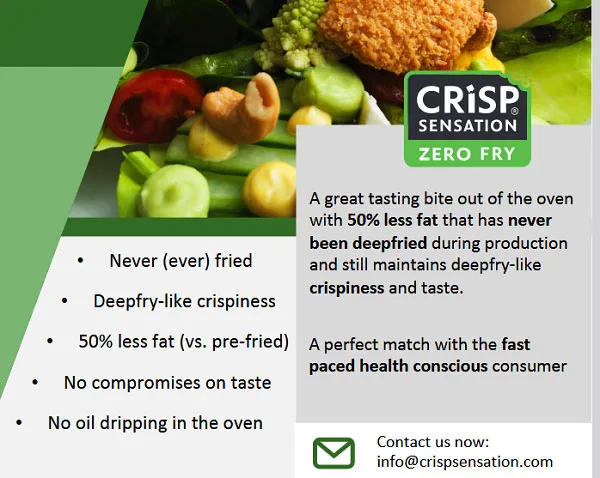 Technology feature from the language of the manufacturer
The first system that can really only achieve a crispiness like frying in the oven. With the new CRISP SENSATION® ZeroFry coating system, there is no need to over-fry during cooking. Final preparation requires only an oven or freezer. It reduces fat by 50% and significantly reduces calories.
CRISP SENSATION® patented technology allows you to turn crumb-coated snacks into a lasting memory with a crunchy bite; A bite with a juicy center and a sense of freshness! Suitable for all substrates such as chicken, cheese and vegetables.
Undoubtedly, your customers will enjoy quick and easy preparation Oven or freezer will enjoy. It is also very suitable for TurboChef, aryChef and ovens in restaurants and even airplane ovens.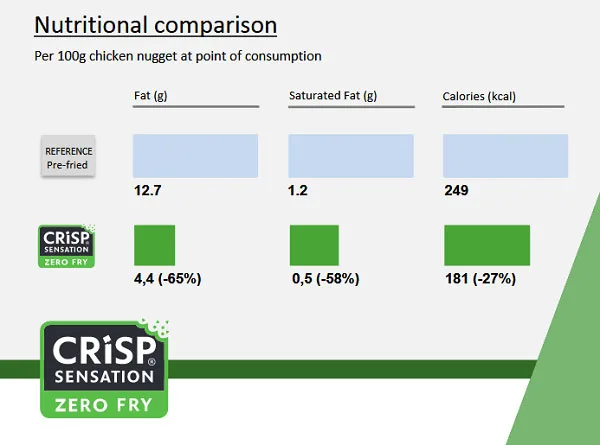 The crispiness of the snack and its juicy center are unique features that make it a lasting pleasure for you.
Fast, easy and safe preparation, a great tasting bite in the oven, with 50% less fat, never fried during cooking, is a very distinctive solution that helps you develop your business to completely health-oriented products. supply The consumer feels the texture of the food without changing the taste.
Notable producers
Easy implementation in the current line setup
No need to fry anymore
The output is not limited by the capacity of the fryer
Saving oil and energy consumption