The importance of travel, its benefits, and the pleasures it brings to humans are not hidden from anyone. Travel opens a new window of attractions and places of interest, different tribes and customs, souvenirs, and discovering and tasting new foods. You may not believe it, but traveling for food is one of the motivations of tourism in many world countries. In many different sciences and schools, food has been mentioned as the first need of every human being. Still, in this report, we are trying to address a category beyond this human need because food is not only a consumable to fill the stomach but also contains the Culture, customs and customs of the native people of a region and is a kind of food tourism.
In recent years, the tourism industry has emerged as one of the major economic industries worldwide, bringing significant income to countries every year. Therefore, the more accurate and scientific planning around it, the more financial resources can be realised. In addition, regardless of material and economic issues, paying attention to the tourism industry will transfer the cultural concepts of civilization to other countries. Food and food tourism, as a part of this industry, can be very successful in attracting tourists, earning money and transferring Culture.
The Place of Food in Iranian Culture
Iran has always been mentioned as a cradle of Culture and civilization with a historical background. But we may still need to remember that our country has delicious and diverse foods. Iranian foods are very special and tempting, so they are part of the cultural attractions of different regions of the country.
Can someone who does not like to try yogurt soup and kashk soup (Qort Shorbasi) of West Azarbaijan province or Koofte Tabrizi and Ash Umaj soup of East Azarbaijan province? Sohan, Ash and Abgoosht of Qom, Khoresht Albaloo, Halim Bademjun and sweets of klompeh, komaj, charkhi bread Kerman pistachios are worth a try.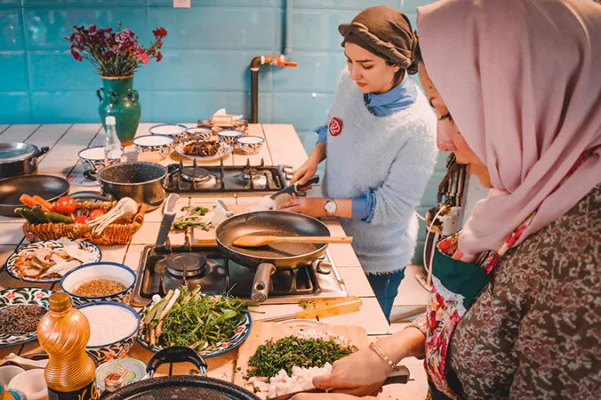 Food Tourism in Iran
Nowadays, food has found a special place in the tourism industry, and most restaurants, hotels, and accommodations promote their food culture; however, there needs to be more mention of the history and variety of local foods and the Iranian school in Iran's tourist catering centers.
Iran's capability in food diversity can be seen as influenced by the geography of the country and the ethnic and racial diversity of Iranians.
It means that due to pastures and special weather conditions and the possibility of growing plants and livestock, the broths (Abgoosht) of northwestern Iran are unique.
In the central regions of Iran, which have a dry climate, they mostly use dried vegetables, and in the south of the country, due to the presence of the sea and the ocean, seafood is more popular.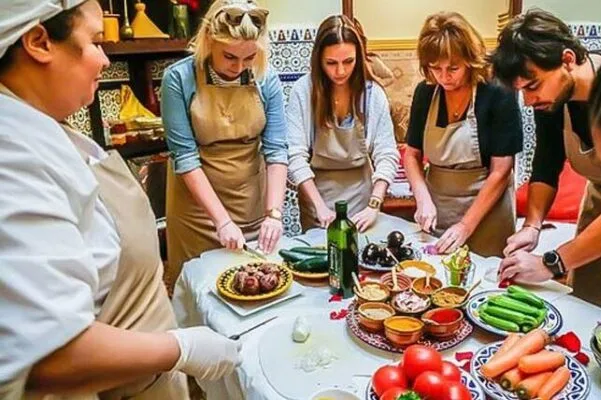 Tourism is a potential that we have neglected
According to statistics, in the past decades, the activities of restaurants in different nations such as Chinese, Japan, Lebanese, Italian, Greek, and Indian have expanded in the country and have many customers. However, several thousand types of local food in our country may still be named. We have not heard of them either, and this is unfortunate.
Certainly, staying in a 5-star restaurant can be a pleasant experience for every tourist, but spending travel days in an eco-tourism accommodation and getting to know different cultures and tasting the taste of local cuisine is an unforgettable attraction.
One of the most important issues is related to guides who guide tourists, especially foreign tourists. Despite the importance of this topic, the training of guides, especially in this particular case, has never been at the top of the plans of the officials and trustees of the tourism sector.
The activities and planning in this field are limited only to holding festivals and food festivals in different rural and urban environments and holding food tours in a scattered and island way.
At the same time, food tourism should be placed on the agenda of the trustee institutions as the trip's main purpose, with the purposeful organization of tourist tours. In addition, helping to set up local restaurants in the provinces, providing facilities to them, and adding local dishes to the menus of large and famous restaurants in the country is also considered a strategy.
Of course, it cannot be denied that participating in international, prestigious and well-known festivals related to the food tourism industry will play an undeniable role in introducing Iranian cuisine internationally.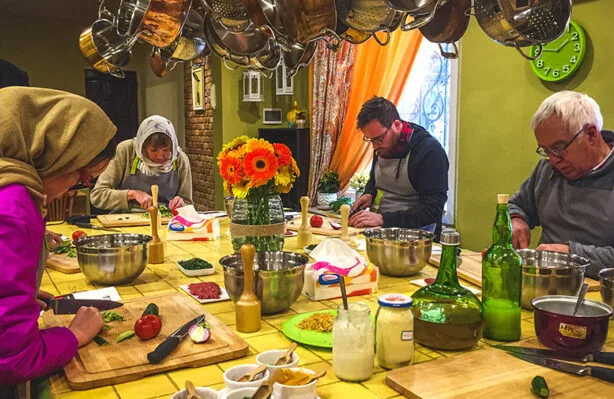 Why is it important to pay attention to food tourism?
In response to why it is important to pay attention to food tourism, an expert in tourism studies said that the rotation of profits and significant economic returns is the most important reason that justifies special attention to this field. They will have a wider range of food choices, increasing the trip's attractiveness.
By purposefully pursuing and institutionalizing this approach, inter-provincial food tourism will be formed and then, while attracting the taste of our country's people, authentic Iranian flavors will flourish beyond the country's borders.
According to this expert, activists and enthusiasts in this field and those interested in cooking traditional and authentic Iranian food should be supported and become entrepreneurs. In the meantime, using the media and virtual space capacities to promote local food, create the basis for people's participation, attract government facilities and investors, and provide the necessary training in this regard will be effective.
  Food tourism provides the basis for developing the local economy and job creation in deprived areas. In addition, using local foods, which are often healthy and organic, reduces the incidence of food poisoning during travel, which is a matter to consider.
Food tourism has a concept beyond this
Some food tourists prefer to travel to small towns and rural areas instead of dining in luxury restaurants to get to know the cuisine of remote areas and meet food producers up close. The Dinner on a Farm project in America is an effort by farmers living in different states to introduce tourists to local foods and traditional cooking methods. Farmers plan to bring their crops to tourists with the best possible taste by inviting local chefs. Holding local food festivals is also a great opportunity for villagers and local cooks to present and market their cooking art to a larger audience. Food tourism can contribute to their development by creating jobs and income for rural communities.
Our country also can become a destination for food tourists with its diverse climate and many subcultures. Gilan province is one of the provinces that has been receiving the attention of those involved in the field of tourism for many years, and there were many proposals to name this province as the first food tourism destination in Iran. Until this year, the proposal to register the city of Rasht in UNESCO as a creative city of food was proposed by the Secretary General of the National Commission of UNESCO, but the noteworthy point is that today the tourism industry is more and more towards quality and creating specific procedures to respond to the needs of tourists. It goes on. For tourists who have become more aware and look for meaning in every experience, food presentation should be such that it can turn a restaurant into a tourist attraction for them. In such a situation, what is more, important than ever is managing the demand of tourists and, of course, knowing what they want and their definition of a good and quality restaurant.